Heart, Occupied
Well, we knew this would happen. It's our first, or, fist (you'll see), official
Craigslist
Occupy Wall Street Love Connection. I can't believe there's not more of these. I have a lot of friends who are heavily involved in this issue, so I've refrained from making a, "Jobs may not be getting made during the Occupy Wall Street protests, but I'll bet you that babies are" joke. Either way, we can only hope that this is just the beginning. But I do hope that in the future, the second word of the post doesn't have a sexually connotative misspelling.
Cute anarchist(?) protestor arrested at Occupy Wall Street - m4w - 29 (90th precinct house, Williamsburg)
---
Date: 2011-10-02, 5:14AM EDT
Reply to:
---
I fist spotted you at Zuccotti Park/Liberty Square right before the march started. You're a few years younger than me with short, dark hair and you were wearing all black with leggings and a red handkerchief around your neck. I thought you crushingly attractive but things got moving and I lost track of you before I was able to work up the nerve to say hello. I saw you again a couple hours later when we got arrested on the Brooklyn Bridge, and then we ended up in neighboring cells at the 90th precinct house in Williamsburg. I'm the tall guy with glasses and short, dark hair wearing jeans and a tan t-shirt. I had a gray hoodie with black stripes on the bridge. You made fun of my shoes' tongues falling out because they'd confiscated our shoelaces! Unfortunately you were released in the first group and I in the last, so I couldn't find you by the time I got out. Curses!
I'll be looking for you hard the next time I'm down there, and I won't let the opportunity pass by me a 2nd time! But in case I don't see you, know that I'd love to buy you a coffee or tea or what-have-you (it's cold in that park!) and hear what draws you to the demonstration. Say hello!
UPDATE: You are photographed very prominently on The Guardian: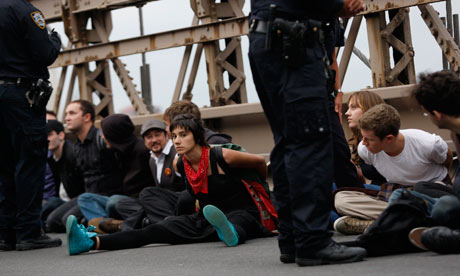 Location: 90th precinct house, Williamsburg
it's NOT ok to contact this poster with services or other commercial interests